V O I C E S R I S IN G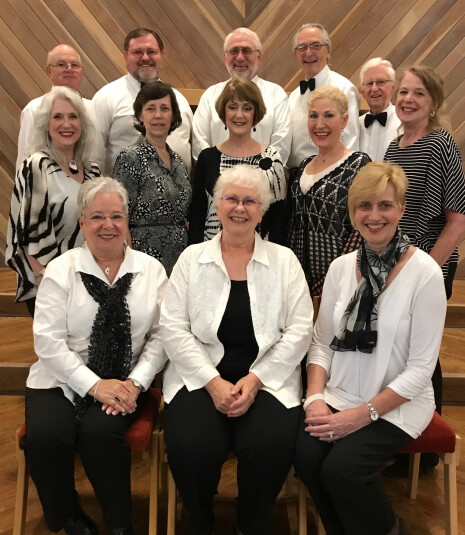 Voices Rising will present a summer concert at 3 p.m. Sunday, June 25, at Presbyterian Kirk of the Pines in Hot Springs Village. This select group of vocalists, under the direction of Fran Stroud, will present music ranging from Broadway to sacred to patriotic with a professionalism that all will appreciate.
A men's quartet will share a Spiritual and a Gospel number in four-part harmony, and the ladies of Voices Rising will be doing their own special blend of music, including the popular song "Hallelujah" by Leonard Cohen. A highlight of the concert will be the acapella numbers that Voices Rising can do with precision and expertise. The audience will be caught up in the musical beauty of highly trained voices!
A free will offering will be taken for local charities.
327 ANTHEMS AND 15,474 PIECES OF MUSIC HAVE BEEN INVENTORIED!
Charlotte Massey, Rosemary Claveau, and Sharon Collar are our librarians. Norm Martin takes care of the hymn sheets. Each choir member's personalized anthem copy and hymn sheets for the next week must be distributed before rehearsal begins. After every Sunday morning service, they collect the anthems, re-sort them, and re-file them in our library. The choir is a great group who loves singing together and making beautiful music.
Past Events
Over the years the Kirk in the Pines Presbyterian Church has had quite a few special events. Here are some of the highlights!
The Kirk held its Annual Picnic at the Balboa Pavilion June 14th, 2017. The theme was our nation's flag; so members wore their red, white, and blue! Smokin' in Style catered the buffet dinner, followed by a Trivia Contest about the U.S. Flag, followed by singing patriotic songs.
Two delightful characters, "Mabel" and "Melvis," brought their "daily radio show" to Presbyterian Kirk in the Pines from "Lazy Oaks, Arkansas" in May, 2017.
"Laugh Lines," was an original comedy, written and produced by Bev Bullard and Judy Corwin to benefit Safe Haven Shelter in Hot Springs. The comedy lived up to its name.
After the show, Melvis and Mabel greeted their many fans in the Narthex. The evening's Free Will Offering yielded $655 to benefit homeless women and children in Safe Haven Shelter!

Our physical and spiritual journeys were the focus of the Rev. Dr. Debra (Debbie) Carl Freeman's Spring Lecture April 27, 2017 in Hoffius Hall at the Kirk. A discussion of her film followed its showing. She most recently served as pastor of Westover Hills Presbyterian Church in Little Rock, but has served congregations in Arkansas, Virginia and Scotland.
Debra comes from a family of Presbyterian clergy ... her father, two brothers, and brother-in-law are all Presbyterian ministers.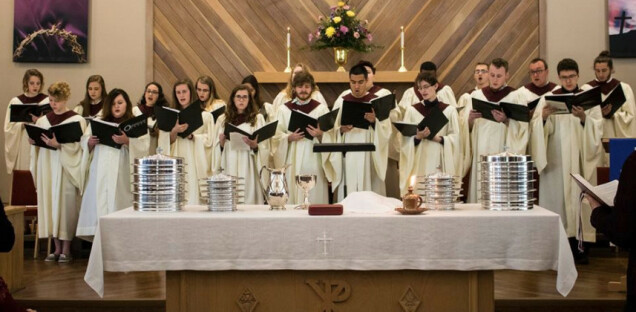 The Chamber Singers Choir from University of the Ozarks included the Kirk in its tour on April 1 and 2, 2017.
The 24-voice choir sang at a Saturday night service at 5 p.m. and a Sunday morning service at 10 a.m. in May 2017. The choir is led by a new director, Dr. Jonathan Ledger, a graduate of Emery and Henry College in Virginia, Bowling Green State University and the University of Alabama. Dr. Ledger is bringing back a long-popular tradition and expanding this year's tour to include performances throughout northwest Arkansas, northeast Texas, and southeast Oklahoma.

Pastor Bill Bailey with 28 fellow travelers returned after visiting the Holy Land. After landing in Tel Aviv, they explored Israel from border to border. Now they are back and shared their pictures and stories with us at a Pot Luck Supper on May 18, 2017!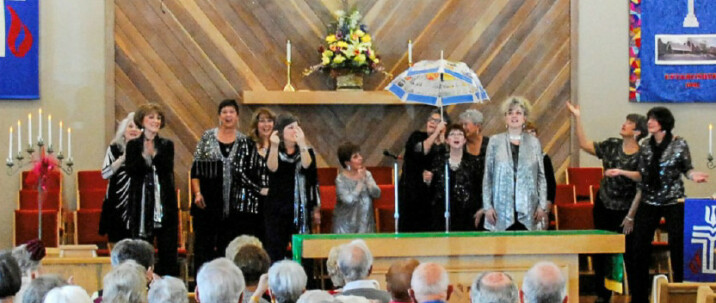 On a Sunday in February 2017, three award-winning Sweet Adeline International barbershop quartets entertained a full sanctuary of enthusiastic Kirk members and visitors. Roundelay from Little Rock, Providence, and Treble in the Village joyfully entertained at the Kirk. To end the event, all members of Sweet Adeline International in the audience were invited to join the three quartets in their final number.

Around 80 Kirk members braved the cold to attend the Fellowship Committee's December caroling party in 2016. Guests filled their plates with potluck hors d'oeuvres and then settled at tables to enjoy an evening of Christmas music by the quartet Treble in the Village.
Members Fran Stroud, Kay Crews, Sharon Gardner and Patty Van Cleve sang a variety of songs, from the delightful Holiday Dinner Party. A big thank you goes to Treble in the Village for a wonderful program.

Presbyterian Kirk in the Pines held our traditional Candlelight Service on Christmas Eve, 2016. We lit the fifth candle of Advent, the Christ candle, followed by a beautiful worship service and ending with the congregation lighting candles in the darkened sanctuary and singing Silent Night.

For the past several years, the Kirk has been honored to host a chamber concert in the sanctuary as part of the Hot Springs Music Festival, April 2016. Renowned musicians from all over the world take part in this distinguished festival which brings together talented young musicians with seasoned mentors. After the concert, the audience and performers were invited to a reception in Hoffius Hall.

The Chamber Singers of the University of the Ozarks visited us in April 2016. The choral group is an auditioned ensemble of 21 members. Directed by Dr. Sharon Gorman, the university's organist and choir director, this talented group sings for special functions and concerts. The Kirk visit is part of an annual spring tour to Presbyterian churches throughout Arkansas.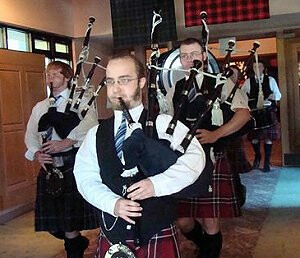 In October, we celebrated our Scottish heritage with the Kirkin' o' the Tartans, featuring bagpipers from Lyon College at Batesville, Arkansas, and a parade of Kirk members carrying banners with the tartan of their clan. Afterwards, everyone gathered in Hoffius Hall for a sumptuous high tea. Tartans, with their distinctive plaids, represent specific Scottish clans, regions, or regiments. The Kirkin' o' the Tartans is the presentation of a Scottish family's symbol, its tartan, at church for a blessing. This joyous celebration is held at the Kirk every three years.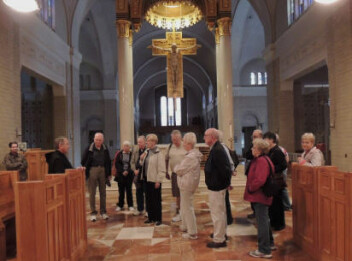 One of our Shepherd Groups visited Subiaco Abbey. The group is standing in the beautiful Abbey church. Subiaco Abbey is an American Benedictine monastery located in Logan County, Arkansas. It is part of the Swiss-American Congregation of Benedictine monasteries.